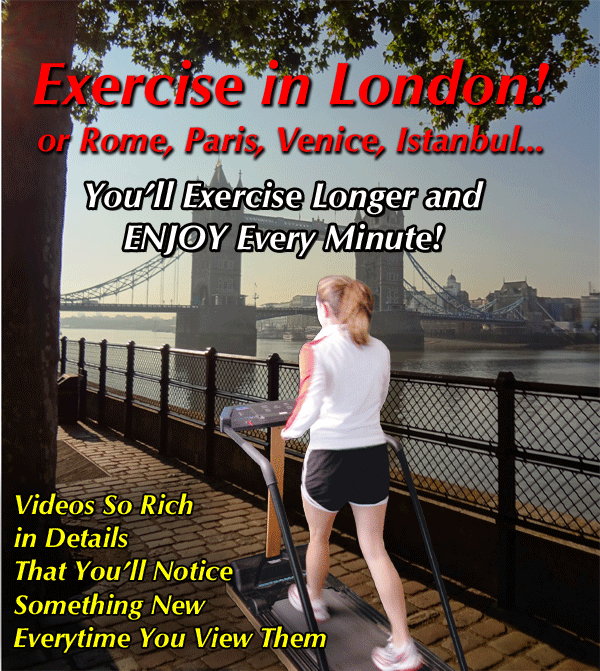 OUR MOST RECENT EMAILS AND AMAZON REVIEWS FROM CUSTOMERS:
"They arrived yesterday. I started the first one (Maine Nature Walk) today on my elliptical. It was very nice: great picture, excellent sound, just exactly what I was hoping it would be. Just one question: Did you and Wayne do all of the videos yourself? Just a curiosity kind of question . . . that would be a lot of walking and biking . . . Thanks again, for the DVDs and the fast delivery. My new exercise / weight loss program got serious starting about twenty minutes ago. Allen"
"I love these walking tours! I am house bound now and unable to travel. With these DVD's I am now traveling around the world from my Treadmill. They are so good! I feel transported to these places. They are so wonderful! I have purchased many of their tours and I promise you will not be disappointed! Every one them is good. I am so grateful to the folks that made these DVD's. Thank you so much! Susan"
"5.0 out of 5.0 Stars: Beautiful and creative DVD! Thanks for all of your hard work and efforts! Hats off to an awesome seller!"
"5.0 out of 5 stars: This is a great video! Well done, like you are actually walking through the villages! Even see other people smiling at you. Sure beats watching the news while you are on a treadmill. Very nice!"
"5.0 out of 5 stars: Favorite park, love the "walk." We've been to Acadia twice, so love the "walk. by Cactus Flower"
"5.0 out of 5 stars: These videos are gorgeous and help break the monotony of the treadmill. I actually have put them on while I'm working around the house so they are just playing in the background. by Lori "
"5.0 out of 5 stars: Just before I received this I had a lightning hit and it blew my HDMI inputs so I just finally got to watch it on a new TV. Very revealing. I realize the area is not as romantic as I had envisioned and the Giza plateau is strewn with large pieces of stones that have broken away and fallen off yet the public is allowed to roam freely. I very much appreciated the hand written note included by the company owners. Very nice touch. Probably the only better experience than these videos would be VR. I intend to buy more! By Donna"
"5.0 out of 5 stars: A favorite - Makes treadmill workout so much fun! Covered a lot of interesting areas in Paris. by D. Cote"
"5.0 out of 5 stars: Five Stars! This is amazing! Just pure Zen! The countryside is so peaceful and such a lovely, relaxing adventure. by L.L.L."
"5.0 out of 5 stars: I put a TV on my treadmill and now I watch these videos while exercising. It makes the time pass much faster and not near as tired when I'm finished. By David L. Johnson"
"5.0 out of 5 stars: I thoroughly enjoyed this walk and just purchased another in their series. Service was wonderful! By ValerieG"
"Hi, My name is Erin. I received 6 DVDs a number of months ago of various virtual walk tours (of which I only purchased 4 as you had included 2 extra tours that you thought my father would like). We had exchanged a couple of emails during the time that my father was struggling with Cancer. Unfortunately, he passed away November 21st. I just wanted to let you know that he thoroughly enjoyed all of the virtual tour DVD's you sent. During days that he was tired of watching CNN (or more so I got tired of watching it : ) he watched in awe at some of the beautiful locations you have captured on video. He was shocked at how real it seemed to him on his big screen TV. Some days he was just so tired from being unable to sleep at night, he actually was able to fall asleep to the sound of the birds in the 4 seasons video! The videos displayed such amazing graphics it truely did give him a sense that he was really at these locations walking himself (even though he physically coouldn't walk). So sorry for the belated thank you, as the last few months have been quite difficult. I do plan on bringing them into work with me this week and play them on our big screen TV in our gym where I'm an Occupational Therapist. So often my patients say "I'm tired of riding this bike! It's so boring!" This way they can enjoy the beautiful scenery and not even think about how they're working in Physical or Occupational Therapy. So again, a huge thank you to you and your company for allowing not only myself and my father enjoy your videos but now for my patients as well! Sincerely, Erin"
"Super seller. I now have five nature walk dvds and love them all (Ireland, Maine, Florida, Hawaii, Four Seasons). And I don't even own a treadmill. They're great for simple relaxation. When I can't get to a park, I put in one of these dvds and I can take a mental walk in Nature. Thanks. Wish I could figure out how these are made. I suspect some kind of drone is used."
"Excellent delivery time. I am so happy with this Midsomer Villages walking tour. I especially enjoy the beautiful old churches and the graveyards. The photography is outstanding, and it was a wise decision not to include music or a narrative. I am very happy with this purchase, and I highly recommend VITA DVDs."
"Hi Kathi, I love the Novia Scotia DVD!! I was soo into it, that I was stopping for the stop signs! Lol. Love it!! Went 5 miles!!! Beautiful scenery...oh, just beautiful, thought I was there!!! Hope you continue to make these!!!! Thank you!!! I love it!! Who ever rode on the bike filming this DVD...did an EXCELLENT JOB!!! Wow!! Highly impressed! Jackie"
"Hi, I'm glad to see the Cinque Terre video is out! We loved our time there although short. We had a great month in Europe. Venice was more incredible then I imagined, even after watching your video multiple times. I finished the 10k in Hampstead Heath after all the training on the treadmill though jetlagged I couldn't break an hour and not with Parliment hill to contend with! Anyways looking forward to watching more videos! Daniel"
"I would like to order the Cornwall Bike Ride and the Florida Nature Walk. This will bring my total of your DVDs to 20! I've written several times about how your DVDs helped me rehab from a knee replacement and how they're helping me postpone the other one. Since the first of the year, alternating between riding the exercise bike with your DVDs and using my son's gym in the cellar, I've lost 45 lbs and developed stronger leg muscles. These act as a brace for my bad knee, allowing me to put off surgery a while longer. Your DVDs not only help physically, but also mentally. They're helping me to get through a family crisis. You should know that a lot of people, including myself, think very highly of you and your videos. You've helped many people. Dare I say that sainthood is in order? LOL. Clyde"
"Received dvd in Friday's mail, earlier than you were promised — i "biked" in cornwall this morning and absolutely loved it — did the whole hour where i've only been doing 10-15 minutes at a time on the bike since i got it several weeks ago — can't make up my mind if i want to "do" dartmoor tomorrow or "ride" in cornwall again — would love to "bike" in other british locations — the lakes, along the canal footpaths, villages, london to name a few — i may have to adopt the walks you have on offer; otherwise, guess i'll be "traveling" to scotland and ireland next — thanks so much for enhancing the chances that i'll keep on the move … Barbara"
"Checking your site this morning, I was delighted to see that your two new British videos are now available--Midsomer and Dartmouth. Downloaded them promptly (always one for instant gratification) and while doing my daily half-hour walk (3 mph) on the treadmill, viewed the first half hour of the Midsomer offering. Looks like another winner from the team at Vita Digital! -- Larry"
"I've bought 3 previous downloads and I like them enormously because they change the tedium of the exercise bike into the pleasure of my regular cycling. I will surely buy more so please advise the best way to find you. Regards. Trevor"
"Thanks so much for the videos. I am officially addicted. For the first time ever I look forward to my morning treadwalks! That has NEVER happened before. I'll be getting more videos as soon as I walk through these. Plus my folks are now interested in them as well... :-)... Again...thanks!! --Jim"
| Go Directly to Amazon Reviews | Go Directly to Mail Reviews | Go Directly to Website Reviews |
Customer Reviews:
MIDSOMER VILLAGES WALK - 5.0 out of 5 stars - Excellent recording, and the sights are incredible. I love it, I'm so glad I ordered it. By Olga on December 15, 2015 - Verified Purchase - "I love this video. I'm so glad I ordered it. The recording is excellent, and time flies doing the excercise. I use it while I do stationary walk, I use my fitbit, and try to go at the pace of the recording. It counts for 10,000 steps, or 4 miles."
MIDSOMER VILLAGES WALK - 5.0 out of 5 stars - It is like being there with Kathi and Wayne - By Joy Brown on April 19, 2016 - Verified Purchase - "It is like being there with Kathi and Wayne. Enjoying the walks, and making my walks on my treadmill most enjoyable. I am glad I found Vita DVDs, and Kathi and Wayne."
LONDON WALKING TOUR - 5.0 out of 5 stars - Wonderful - By Marsha Louise. on April 4, 2016 - Verified Purchase - "More travel videos should be this good. It was like being there."
MAINE NATURE WALK - 5.0 out of 5 stars - ... walked through parts of this area and it was like being there again - By Jane Brandi on January 9, 2016 - Verified Purchase - "I have walked through parts of this area and it was like being there again. Wonderful job. The pace is just right and the bird/nature sounds are so enjoyable. I like how the "walker" pauses at times to soak in a pleasant spot for a moment as I would have done. Makes my elliptical time more enjoyable. Will be purchasing more of these for certain."
COTSWOLD VILLAGES VOL. 2 - 5.0 out of 5 stars - beautiful relaxing walk - By Kim Johnson on April 24, 2016 - Verified Purchase - "they did a wonderful job on this one, it is relaxing and beautiful. I use it for my treadmill, my husband for his bike. I get so caught up in the beauty of the walk my morning workout is finished before I know it."
ROME WALKING TOUR - 5.0 out of 5 stars - Love it - By Kellyon January 30, 2016 - Verified Purchase - "Wow what a fast hour on the treadmill! I loved this DVD, and Rome is amazing."
Rome Walking Tour - 5.0 out of 5 stars - "Very nice for treadmill. I will be buying more of VITA videos for TM. LOVE it." - By Amazon Shopper on January 19, 2015 - Verified Purchase - "I was a bit apprehensive purchasing this video, but, I found I really enjoyed it and my treadmill hour went by like SNAP! Each time I watch it I see different things. A nice addition to my collection of various videos I use during treadmill walking when I cannot get out into the real world on bad weather days. The video quality is excellent. I have traveled Europe for 3 years straight, Rome being one city I spent much time in and literally saw all of what is in this DVD on Rome, and if you cannot travel, then this is a good way to get to enjoy the scenery and the beautiful ancient temples and monuments. And when watching it on my 70" screen TV, I almost feel like I am really there again. The audio quality of the soundtrack is pretty good too, but I also admit to turning it off and listening to my music of choice on iPod. I DO plan on buying some more of the other VITA walking videos for my pleasures while on my lowly but oh so necessary treadmill."
3 DVD Titles Purchased: Maine, Four Seasons & Ireland - 5.0 out of 5 stars - November 16, 2014 By Burness S. - Verified Purchase- "I purchased 3 of this company's DVD's and I am so glad I did. They were delightful to watch and worked out just right for the rehab I am doing. Nothing too strenuous and no obnoxious narration, or unwanted music. The camera work was smooth with an occasional pause to see the sights. These were perfect and I plan on buying more."
Rome Walking Tour - 5.0 out of 5 stars - "This is a great workout DVD!" May 20, 2014 By hysteria2 (edgewood, nm USA) - Verified Purchase- This review is from: Rome Walking Tour for Treadmill (DVD) "I would give this ten stars if I could. I felt was really walking in Rome! The hour on the treadmill just flew by. I got a great workout and a trip to Rome!"
Rome Walking Tour - 5.0 out of 5 stars - January 5, 2015 By Elizabeth E. - Verified Purchase - "I love this video, the scenery, listening to people and the sounds that you would hear while walking with this video not only makes you feel like you are there but makes you forget time when walking on the treadmill. For once, 1 hour of exercise was enjoyable and I never looked at the display board once. Thank you Kathi and Wayne!"
Cotswold Villages Virtual Walk - Volume 1 - 5.0 out of 5 stars - "Great for a nice calm walk on the treadmill" April 25, 2014 By single mom "single mom" - Verified Purchase- This review is from: Cotswold Villages Virtual Walk for Treadmills - Volume 1 (DVD) "I put this in on the weekends and pretend I'm back in England, where I served in the Air Force. Very nice and calming, until one of my cats heard the background sounds - cows, sheep, and, his favorite, birds. He hopped up on the TV stand and nearly knocked the TV over trying to get to the chirping sound. I had to stop I was laughing so hard. Poor cat finally gave up, shot me a dirty look for teasing him, and I continued with my walk. I especially like the touch of when the 'walker' goes through a gate along the public path, pauses and turns around to show the small plaque commemorating the marriage of Prince Charles to Lady Diana. I will definitely get another from this company."
Cotswold Villages Walk Volume 1 - 5.0 out of 5 stars - "I LOVE IT!!!!!!!" - October 7, 2013 - By cyber reader - Amazon Verified Purchase: "This is the best virtual exercise dvd I've found so far. I just received it today and I am blown away by it! You feel like you are right there walking down the street. There is no annoying background music only the natural sounds like birds singing, making the virtual experience more realistic. The photography is clear and crisp. It is just the right speed to enjoy all the lovely scenery. It makes you feel like you are on vacation. You walk past vintage cottages with lovely flower gardens and through scenic towns. It is a visual and mental treat. I know I will watch this dvd many times. This seller is excellent. They ship immediately and are great to communicate with. I have purchased several of their other dvd's and will be reviewing them as I watch them. I highly recommend this dvd for anyone who enjoys amazing scenery along with their exercise."
Cotswold Villages Walk Volume 1 - 5.0 out of 5 stars - "Beautiful DVD" - Jan 23, 2014 - By mary - Amazon Verified Purchase: "This is such a beautiful DVD. I felt as if I were walking through the villages, enjoying the scenery. The hour passed very quickly. This is an extremely high quality video and an excellent way to spend an hour on a treadmill or rebounder. Thank you so much!"
Cotswold Villages Walk Volume 2 - 5.0 out of 5 stars - "Wonderful DvD" - November 9, 2013 - By cyber reader - Amazon Verified Purchase: "This is a great dvd. I use it while riding my exercise bike. The scenery is lovely and every bit as good as Cotswold Villages Volume 1. I actually look forward to exercising while watching Vita dvd's. I have several of them and have enjoyed each of them but so far the Cotswold ones are my very favorite."
Florida Nature Walk - 5.0 out of 5 stars - "Perfect nature walk" - February 3, 2014 - By doglover (MD USA)- This review is from: Florida Nature Walk Treadmill Scenery DVD "The Amazon description tells you what's in here, so I won't repeat. This video is a great escape into nature....the only sounds you hear are the (mostly) birds that happen to be in the vicinity as the footage is being shot. Although the camera is usually aimed straight ahead, stops are made with the camera panning to one side or another so that you can stop and enjoy the scenery. The video is smooth...and I really can't figure out why there weren't some wobbles as the photographer navigated a few really skinny boardwalks or some shaky looking stepping stones....if I'd been the photographer, I'm pretty sure I'd have been looking down the whole time to make sure I didn't fall. The pace of the walk is listed as being about 3 mph. and I'd say that's pretty accurate....I walk at 4 mph. and it was a bit slower than what I would have been doing on an exercise walk. I bought this to use on my stationary bike, though, and not a treadmill, so the speed didn't matter at all to me.
I love that there was no additional sound with this video....I like to listen to only what Mother Nature has to offer when I'm outside. If you, on the other hand, prefer music or whatever on your walks, you could easily play whatever you wish without interfering with what's on the video or having your choice interfered with by the video sounds (of course, there's the mute button if you so desire).
I can also see me using this versatile video as a relaxation tool....with or without additional relaxation music....from the vantage point of a comfy chair. I bought a bunch of videos from these folks and am looking forward to watching the others (this was my first)."
Florida Nature Walk - 5.0 out of 5 stars - "Wonderful...+ - May 24, 2013 - By L.L.L. - Amazon Verified Purchase: "This is one of my favorites. Peaceful, calm, and beautiful. I feel as if I am walking in the Everglades and listening to nature at it's most centering. Quite wonderful...."
Four Seasons - 5.0 out of 5 stars - "Mother Nature visits your living room!" March 20, 2013 - By pony - Amazon Verified Purchase: "I wasn't sure I quite believed the promise of a "smooth camera" gliding through the forest. Don't know how they did it, but it really is true. The visual looks just as if you were walking through the wooded areas, along the lakeside, etc. Natural sounds enhance the experience - everything from birds chirping in the trees to leaves crunching underfoot. Makes working out on the treadmill a pleasure! (There is one area where the cameraman's shadow can be seen at the bottom of the screen, but that's a minor item and does not 'overshadow' the overall excellent quality of this "virtual walk.")"
Maine Nature Walk - 5.0 out of 5 stars - "Great DVD" - October 10, 2013 - By cyber reader - "This is my third Vita Dvd. They are all great. I am using them with my exercise bike because of knee trouble. I find that I enjoy them just as much as I would walking on my treadmill. The photography is excellent and I enjoy the slower walking pace which let's you really take in the scenery. This dvd is very relaxing. It is a good one to watch when you just want to chill out. I just finished watching Cotswold Villages Virtual Walk 1, and Exotic Istanbul. They are amazing! I highly recommend Vita DVD's. I am so glad I discovered them a couple of weeks ago."
Ireland Nature Walk - 5.0 out of 5 stars - "I love putting myself in these beautiful settings..." - April 27, 2013 - By L.W. - Amazon Verified Purchase: "I have several of these and for me they are so worth it. My dream of visiting these places is not going to happen. I love being able to experience these places while walking on the treadmill. I feel they are very well done. They offer you choices of whether to listen to music or the natural sounds. Options are nice. This purchase was totally worth it to me."
Ireland Nature Walk - 5.0 out of 5 stars - "Loved It!" November 18, 2013 - By floridamermaid - Amazon Verified Purchase: "I lived in Ireland as a child. My grandmother took me to this same location over 50 years ago and we walked this same path together. It is amazing how this location has never changed and it looks exactly the same as I remembered it. It brought tears to my eyes just watching it. I really enjoyed this video. Very well put together."
Angeles Crest - 5.0 out of 5 stars - "This is a masterpiece! I felt as if I were actually taking that ride through the mountain twists, turns, and into heavy fog." November 28, 2013 - By Bold Consumer TOP 500 REVIEWERVINE VOICE - Amazon Verified Purchase: "The photography is excellent! This is the way the drive through the mountains really feels. At one point we even go through thick fog. I was wondering if we would be able to see at all. If you enjoy some majestic scenery as you work out, you may enjoy this DVD. The preview of some of their other DVDs was worth the money to me. If I could, I would get ALL of them!!!
That was the short review. Here are more specific details for anyone who is interested.
I enjoy a variety of virtual rides, but not everyone likes the workouts focused on the scenery where you have to use your own creativity to provide motivation to move forward at a good pace. if you enjoy, as I also do, fast-paced, narrated cycling videos with music to help you keep the pace and dashboard tools to change the intensity for hills and valleys, that's not what this one is all about. This is an authentic, virtual 20-40 mph drive through the Angles Crest Highway (7,018 feet) into the San Gabriel Mountains. I had just finished a high-paced running DVD with music, from my elliptical machine. I put this in and---silence---. It sounded good. I was ready for some quiet. I could have provided my own music, of course, as an option. Some of their other DVDs have the actual natural sounds of the virtual experiences. This DVD simulates one person's experience with the magnificent scenery. What you do with it is up to you. I love it!!!
Usually I check 'Time Elapsed' fairly often, but I was enjoying the view so much that time just flew by. I switched from my elliptical to my exercise bike for about 30 minutes. I hadn't checked to see how long this DVD was and assumed it was short. It wasn't. It was 62 minutes with a bonus preview (more on that in a minute). After 30 minutes, I switched to my CardioGlide machine, which uses arms and legs, and surprisingly made the ride even more realistic because of the viewing angle. After 10 minutes, I switched to another elliptical machine to see how that works with this ride. No problem. About this time the ride was high up in the mountains, and heavy, thick fog set in. I was wondering if we would be able to see enough to finish the ride. Then I moved to the treadmill and finished the ride as a run, just to see if that would feel realistic. I believe that if one were a runner, and I am not, it would feel very real. In fact, if you can finish that 62 minutes running, whether on a treadmill or on your floor in front of the TV screen, more power to you! I would have been on the floor gasping for air by that point, but that's just me. I'm not a runner. More specifically, I have made this into a fitness hobby with dozens of workout DVDs designed for use while indoor cycling or on the treadmill running. Those hiking, walking, running, cycling videos each have something I enjoy. Most don't come anywhere close to this DVD as far as spectacular views. I can't wait to do more of these so I can continue to enjoy some travel with my exercise."
Scenic Argyll - 5.0 out of 5 stars - "Perfect for treadmill joggers and exercise bicyclists" - August 6, 2014 - By Greg Walz - Amazon Verified Purchase: "An excellent DVD to watch while on a treadmill or exercise bike. The scenery is both lush and varied and the image remains steady while in motion. The 10-15 MPH speed is too fast for those who walk at a slow pace on a treadmill but perfect for joggers and bicyclists. Plus, it doesn't have those annoying screen wipes that occur on so many other videos of this type. This company features an excellent variety of DVDs with filmed locations both in the US and overseas."
Scenic Argyll - 5.0 out of 5 stars - "Great DVD" - December 7, 2013 -By cyber reader - Amazon Verified Purchase: "I am currently watching this dvd while riding my exercise bike. The scenery is very interesting and relaxing. I love the natural sound effects of the sheep and the birds. I have several Vita Dvd's and they are all well done. I am using my exercise bike alot more since I started using virtual dvd's . The speed this one is filmed at is perfect for a bike ride!"
Scenic Argyll - 5.0 out of 5 stars - "Beautiful Scenery of Wife's Scottish Roots" - September 30, 2013 - By drjwleejr - Amazon Verified Purchase: "After doing Ancestry.com for a solid 3 months (every night/3 to 4 hours a night), we wanted to visualize the scenery rather than look at YouTube videos and images online. Great price and goes well in our ancestral video library."
Amalfi Excursion - 5.0 out of 5 stars - "What a great virtual travel experience with exercise benefits as you view it on your exercise equipment from home." - November 18, 2013 - By Bold Consumer TOP 500 REVIEWERVINE VOICE - Amazon Verified Purchase: "I very much enjoyed Amalfi Excursion by Virtual Walk. I got it because it was a similar location to some that I visited but needed more time to enjoy. I had wanted to experience walking the island, briefly visiting the little villages. The Amalfi Excursion allowed me to do that while on my treadmill or elliptical machine. You can enjoy a description with a travel guide or just natural sounds. There is also music if you prefer. I very much enjoyed the description of what we were passing. Otherwise I think I would have missed out on some of it, not knowing what it was, as is typical on real-life travel excursions. I'm going to see if I can find similar videos for some of the islands and locations that I did visit in real life, but didn't get to spend as much time as I would have liked. The exercise benefits are excellent as well. The exercise stays at a good level because there is lots of climbing. The time just seemed to fly by. This is a good one to view over and over again."
Exotic Istanbul - 5.0 out of 5 stars - "Terrific!!!" - October 9, 2013 - By cyber reader - Amazon Verified Purchase: "This is an amazing dvd! It is a fascinating look at Istanbul. The minutes fly by while you enjoy seeing this foreign culture. I especially liked the walk through the Bazaar. The photography is excellent. You feel like your are right there. This item was well packed and shipped quickly. I am so glad I discovered Vita Dvd's. I have purchased several and will be reviewing each one as I watch them. I highly recommend this dvd!"
"Who would have thought that because of your VITA videos, which I purchased to make my treadmill workout a little more enjoyable, I would have actually gone to some of the places you filmed. And to add to that it was one of the best vacations my husband and I have taken in our 43 years of marriage. We booked a trip with VBT and toured the Amalfi Coast. Our tour included some of the places on your DVD's such as Amalfi, Ravello (our tour guide was from there), the Isle of Capri, as well as Positano, Sorrento, Pompeii, and more. We also walked the ancient ruins in Rome. I cannot let this experience go by without thanking you and your staff for opening my eyes to places I would never have known about.

Because of your DVD's one of the future trips we plan to take is to Nova Scotia and to do the Nature Walk in Maine. Actually we would like to go to many other places you have filmed but these are some of my favorites.

Thank you for a Wonderful Experience. Nancy B."

Note from VITA DVDs: My "staff" is Kathi, my wonderful wife!
"I am officially addicted. For the first time ever I look forward to my morning treadwalks! That has NEVER happened before. I'll be getting more videos as soon as I walk through these. Plus my folks are now interested in them as well... :-) Jim"

"Thank you Kathi! I have aprox. 19 of your videos. Love them! I'm an exerciser and world traveler. Because of your videos, I've added a few more destinations to my "must visit" list! Kindest regards, Ann G."

"I absolutely love your DVDs, as they keep me motivated and I am looking forward to your Walk in Paris, etc — well worth waiting for. I hope that you and your family are all thriving and enjoying your world travels and many, many thanks for taking the rest of us along with you via your extraordinary virtual walks. J.P., M.D."

"Votre technique de prise de vue est magnifique, aujourd'hui, je vais prendre une marche dans une forêt de Floride ! Maryline"

"I am enjoying the first two videos so much and my weight loss is simply PHENOMENAL! I am placing orders for 7 more in order to take advantage of your marvelous sale! Please know that this has been a grand adventure. The people I work with thought I was crazy when I told them I was either going to Hawaii or Maine tonight. Wait till they hear about my new adventures:) Once again thank you for providing this blessing. Regina"

"I received your DVDs yesterday and I want to thank you for such prompt service. I watched the first one... Ravello to Atrani... and had the best walk on the treadmill I ever had. The DVD was breathtaking. I will be blabbing about it to anyone that will listen... it's just that great. Thank you again, Willie"

"Enclosed is my order for some more of your wonderful walking videos. They make walking on my treadmill enjoyable as I travel the world with Wayne. Thank you so much, Ralph"

"I got your same deal back on 03/29/13 a couple of weeks ago and am enjoying them so much (as they really inspire me to actually USE my treadmill) that I would like to get 15 more that I don't have using the SAME deal of buy 10 + get 5 free plus pay an extra $14.99 to get another DVD so that I will have all 31 of your treadmill DVDs that are currently available.

I must say that your treadmill (bike/cycle) DVDs are truly UNIQUE! I feel that I'm actually in the specific place either as a tourist or walking along alone enjoying the scenery. Your DVD's have really motivated me to use my equipment. I purchased a Nordic Track x9 for the iFit feature with Google maps and , believe it or not, for the last five months iFit subscribers have been unable to access the Street Views of Google maps because of some glitch in their system(& they can't even say when they expect it to be corrected) which has been very frustrating indeed & just inexcusable from my viewpoint. But your DVDs have saved the day for me and are more fun and interesting anyway. When will your future DVD's—e.g., "A walk in Paris" be available? Do you plan to have any DVD's in BLUE RAY? Many Thanks, Janet P."

"Love the dvds. I am getting addicted to exercise! AnnMarie B."

"My husband has really enjoyed the DVDs I got for his treadmill. Now, it is my dad's turn! Peggy L."

"I received the two treadmill DVDs I ordered and I love them! It is so fantastic to be able to walk on a treadmill or ride an exercise bike and watch such beautiful scenery, even when it is 45 degrees C outside or torrential rain and destructive winds. I am now enjoying exercise day or night. Thank you for making such wonderful DVDs. I would now like to order all the other treadmill and bike DVDs that you show on your website vitadvds.com.

The website says you have a total of 31, with future DVDs to come. Are there any additional ones available yet? I already have the 2 shown below, and would like to purchase the other 29 DVDs. Can you give me a quote for the 29 DVDs (and any additional ones you have released) with USPS 1st Class International Mail to Australia please, as I am not sure how much it would be as your order system only goes as far as "order 10"! Thanks and regards, Ann H."

"Five years ago I was critically injured while biking. I have had numerous knee and facial surgeries. I lost all the ligaments in the left knee when I got staph after the third surgery on the left leg. I can't play hockey, ski, or run anymore but I can still bike. Thank God. Your videos are a blast and far safer. Thanks, Mark J."

"I received the DVDs I ordered today. They are excellent. I am looking forward to ordering more of your new releases, especially Italy and Greece, as they become available. Thank you for your excellent customer service, communication, and carefully packing for shipment of my DVDs. You did a beautiful job producing these DVDs. I went to Italy in Sept of 2010 and visited Pisa, Rome, Florence, Venice, Naples, and Tuscany. These videos reminded me of my trip which I enjoyed very much. Thank you and best regards, Reggie"

"I so loved walking thru the Cotswolds, that I bought 3 more of your dvds. Last night we walked through Egypt, awesome! Seine River Cruise was lovely, but we prefer the natural sounds to the music soundtrack. Hearing the actual sounds helps the virtual travel experience, it's almost like Star Trek's Holodeck! Thanks for a great product.... I hope your Pompeii dvd is available soon. We'll be back.... Peggy, Franklinville, NJ"

"These are fantastic! My treadmill walk is so fun now. I will be ordering more. What is your favorite of the virtual walk/bike/jog dvds? Brigette"

"I just wanted to thank you for your videos - I've been able to increase the time I spend exercising, which pleases my doctor no end! I especially wanted to tell you that your Mahone Bay is the perfect exercise video - an enticing mixture of lovely countryside, seashore and village. Exactly the kind of bike ride I would take myself if I could. I have stayed longer than I needed to on the bike just to keep watching! Thank you so much! Eren"

"Hi Folks, After having purchased your Agryll jogging DVD, I am a loyal customer. Great product and I am ordering several more to enhance my workouts further. Today, I am ordering the following DVDs: . . . . Larry"

From a recent blog about our DVDs: "I've ordered lots of their videos: Scotland, Ireland, Egypt, Florida, Hawaii, Italy. And yes, my treadmill time is a lot happier and more exciting now. And interestingly enough, it just seems to fly by because I'm enjoying the virtual scenery so much." To read the complete blog, please click here.

"These days it is rare to find such a high level of customer service and the quality of the product is extraordinary. I chose the Irish jogging DVD. Having lived there it was like going back to the days before I needed to be on my treadmill. Now I have a great incentive to do my cardio. Thanks guys!, C.R. Bryant"

"I am going to be celebrating my 3rd year of keeping off 100 lbs. on the 14th of July, with the help of WW and your videos!!! Hated the treadmill until I found them, they are awesome thank you!!! Becki"

"Thanks again for your being there for people like myself who need you! Deborrah"

"I'm thrilled to tell you they came today, safe and sound. I've already watched half of them and am in love. As a writer, I looking up from my writing seeing the beautiful scenes on these DVD's. It's so inspiring. Thank you for that. I was wondering when the new ones, like Pompeii, are set to come out? Thanks from Doreen M."

"These DVDs are wonderful. Good for fitness, but as in my case, good for a way to relax after a challeging day at the office. Looking forward to many more! Vernon"

"I was delighted to receive the DVD and it makes the treadmill more enjoyable. It is a good representation of Irish woodlands with some interesting tree formations. I will be ordering other DVDs from you in due course. Regards, Don"

"I wanted to thank you so much for your wonderful dvd's. I bought the Ireland and Scotland dvd's about a month ago and just love them. I'm medically retired and suffer from PTSS and when I watch these dvd's of the walks through the countryside, I feel like I'm actually there and it's makes me feel good. I deeply appreciate your successful efforts in putting these fantastic walks on dvds. Thanks again, M."

"We are recent customers, who add our accolades for your fabulous DVDs. We are telling everyone we know about them; both my back surgeon and internist wrote down your website address to refer other patients to you. I'm happy to say that it's time for us to buy more. We were intrigued by the mention on your website about your recent trip to the Greek Isles and Istanbul and can't wait to buy those!! If they are currently available but not yet on your website, please advise immediately, and I will add some to this order. But for now, I would like to again buy five with the two free, for a total of seven. Thank you so much. Eve"

"Received your dvds earlier this week. What triumphs they are! I just love them, thank you, and the little "shorts" with the string quartet - very beautiful. I think I will have to send your "Morning in Venice" to my sister in Adelaide - she had her 50th birthday in Italy just last year. She loved Venice, and we hope to go there & UK in 2012. Thank you again for the dvds, they are truly "therapeutic" for me at the moment, and very restful as well. Went to the hospital to day to have my 5th of 6 chemo treatments, however they sent me home because my white cell count is too low at the moment - need to wait till next week - frustrating. Came home grumpy, & put your dvds on - better now! Haha! Take care, Kind regards, Kathleen"

"I just wanted to say that we have been enjoying the walking videos very much, and we now use our treadmill a lot more because of them. We bought a small flat-screen TV with a built-in dvd player, to mount on the wall directly in front of the treadmill, and the dvds work great with it. I expect we will be ordering more, and I will watch for the Mahone Bay video. Regards, Greg"

"I am thrilled with the first one I used tonight, and expect that all of them will be as good. These are going to make my treadmill time fly. I found myself so absorbed in the video that I would look off to the left or right trying to see the ocean or a farm, because I really felt like I was there. I love to walk and ride a recumbent tricycle in good weather, and interesting scenery will often pull me right along. Since it's 14 degrees and icy outside, I'm very happy to have these DVDs for my inside walks. I think they will be everything I hoped for, if "County Clare" is any indication! Thank you! Linda"

"I just want you to know that you have some wonderful dvds on your site and I shall be checking your site from time to time, I am very pleased with what I have already purchased from you, The Hollywood hills dvd was just so wonderful I really enjoyed it, I have been looking around for these dvds for such a long time, I just cannot find them anywhere in England to purchase these, and I thought I`d go on the internet and your site came up and I was so impressed with them. So keep making these dvds I shall definitely purchase more from you!!!!! Many Thanks, Sheila"

"I need more cycling DVD's...just love them!!!! Went to Argyll today and had too much fun telling the sheep to get out of the road and waved thanks to drivers who pulled off to the side of the road to let us by. The sheep are the size of cows; really wanted to stop on the shoreline for a picnic! This one is my favorite!!!! Thanks for a wonderful product! Margie"

"I have been enjoying my first order so much. It truly makes the workout go faster and is much more enjoyable. Thank You! Sue"

"I got the disc today and it looks and works amazing! You did such an wonderful job capturing the footage, it really feels like you're walking there when on the treadmill! Bonus footage was spectacular too. I can't wait to see the other two videos, Cotswold Villages 2 and Ravello. I think having the three will give me a good variety to start with. Later I will definitely want to add more locations to keep things interesting. I just know that I'll find something new every time I view them. I can't tell you how excited I am about your videos and how they will improve my exercising. It's really turning something I force myself to do, into something that I look forward to and enjoy doing. You have such a wonderful concept and execution. Thank you so very much, I really appreciate your talent, your accommodating my needs, your speedy turn around and your excellent product! Van"

"Thank you so much for taking the time to write back to me regarding your DVD's. I purchased as I said earlier the HAWAII one, and then I purchased a DVD from another company. There was no comparison to the packing, quality, and service. I was severely disappointed with the other company's dvd. Your dvd came in a nice case with a nice photo picture on it. It was very professional.

The other company's disc was literally sent to me wrapped in a sandwich baggie. There was no case, no pretty picture, and when I popped it in the dvd player...it was worse. It was very blurry in a lot of spots. The camera bopped up and down so much that you got a headache. There was NO music, no bird noises of any kind, and the guy who was walking with a camera on his head was constantly coughing and breathing very heavily and loudly. It was really pathetic. I was very embarrassed to give this as a gift, so I was compelled to come back to your professionalism and order 2 more dvd's.

I will be borrowing my husband's present myself after Christmas to do my elliptical. I think that would be so much fun. Thank you so much for offering such a unique and professional item that I am so excited to give as a present. Please let your husband know that I am beyond thrilled with your items. Sorry this is so long. I know I get to rambling. Thank you again, I really appreciate you guys!! You would get a kick out of seeing some of your so called competition! There is absolutely no comparison. Jeannie"

"For treadmill users like me, these virtual walks are the greatest thing since sliced bread. As other contented customers have noted, these DVDs provide a major incentive to get on that exercise equipment and to keep at it for longer than you would be inclined if you were staring at a blank wall. What I like best - besides being instantly transported to places that otherwise it would be impractical to visit - is the sense of immediacy, the sense of actually being there, that you get from watching these videos - as opposed to conventional travel documentaries. You have the impulse to say "hello!" to people walking past you, or to get out of the way of two and four-wheeled vehicles coming at you and from behind. Plus, I enjoy the sense of being in a continuous state of anticipation and discovery, of never knowing what's around the next bend, while being surprised and delighted with each succeeding vista. Larry B."

"Hi! I just had to tell you how much I LOVE this DVD! This DVD is superbly made, I can't believe how realistic it is - it's like I'm really there! A particularly pretty scene was going by on the left and I actually turned my head to keep looking at it it was so real - imagine the disappointment of seeing my funky old basement steps instead - LOL! You will DEFINITELY be seeing more orders from me - these DVD's will keep me walking! They make an otherwise boring treadmill workout something to look forward to! Thank You so much! Missy"

"THANK YOU AND YOUR FAMILY FOR MAKING THESE VIDEOS. I HAVE BEEN ABLE TO TAKE MY ELDERLY GRANDMOTHER ON VIRTUAL WALKS TO DISTANT LANDS THAT SHE WOULD NEVER HAVE BEEN ABLE TO GO BUT HAS ALWAYS DREAMED OF. THE QUIET MOMENTS OF DISCOVERY THAT SHE AND I HAVE SHARED DURING OUR EXPLORATION OF NEW LANDS IS A WONDERFUL GIFT. SHE LOOKS LIKE A CHILD WITH A BRIGHT WORLD AHEAD OF HER. I'M HONORED I CAN HELP FULFILL A DREAM OF HERS. I THANK YOU AND YOUR FAMILY FOR HELPING TO MAKE IT POSSIBLE. NEWEST EAGER FAN, KIMBERLY W."

"I just wanted to tell you again how much we have enjoyed these dvds. We will definitely be buying more. My 10-year-old son, who is homeschooled, enjoys these as well. We had just finished a study on Egypt and he found the Egypt dvd fascinating. Thanks again, L.M."

"I just used the waterway walk from the 4 that I ordered of England, and just has to tell you how totally thrilled I was with the DVD - thank you so much. It was scenic, wonderfully clear and photographed perfectly - this was the first time in months that I was able to complete 30 minutes on the treadmill without cheating! My cardiologist will be thrilled - I am going to recommend to all my friends and everyone I know at work check out and buy your DVDs - thanks again - looking forward to using all the others! Totally RAVE review from this end! R."

"Just biked through the entire DVD this am - beautiful scenery, loved the birdsong and the sheep noises throughout. First time I've been able to go that long on the bike, it felt SO good! Please let me know when the one of the Blue Ridge Pkwy is available, I definitely want one! Saw in your catalog that you have one or more on Greece - I was there several years ago, would be very interested to see the details on that one. Keep up the great work - you're making my weight loss program fun and easy! C.D."

"I do not do this very often with products I order, but I would truly like to thank you for your product. I was looking for something to help me get through my workout and this was it! I was a little sceptical at first, thinking that I would not enjoy this since I love being outdoors. After receiving the initial DVD's I ordered, I soon discovered it is a great feeling to be able to jump on the treadmill and be transported away from the days stresses. The hour goes by very quickly and I get a mini vacation. On those days I can't be out on the trail because of weather or time, I bring the outdoors in! I have just ordered four more DVD's to add to my collection and I will routinely be checking your web site for new jogs. I was able to drop some pounds, go sight seeing and make my doctor happy all in one shot. I would love to see more nature trail (mountain biking) or beach runs away from the busy city or town life. Again, thank you so much. These will be workout DVD's that will not gather dust. Respectfully, S.L., California"

"I LOVE your DVD's. They inspire me everyday to get on the tread or spinner. When I first began my quest roughly six months ago my health was not something to brag about. I had a heart attack a day before my 46th birthday and luckily very little damage was done. After jumping on the health band wagon I have lost a significant amount of weight. My cholesterol is 160 and I am off all my meds except the aspirin that I take every morning. I couldn't have done it without you and your innovative product. You made a difference in my life as well as my wife and two small children. Thank you and god bless!! Sincerely, Frank"

"Thank you so much for this wonderful line of videos. I have been using the first ones I purchased. I love them! And what a difference they make. I had been using the elliptical watching TV and could only go 20 minutes. I found I was so bored - especially during the commercial breaks. I was just watching the clock on the elliptical forcing myself to complete 20 minutes, and about 1/2 mile. Now with your inspiring DVDs I go the entire 30 minutes on the walking tours, and at a faster pace. I'm only adding 10 minutes, but I'm almost doubling the distance I go. That is incredible! I am so confident that with the help of your wonderful videos that I will lose the weight and get my diabetes under control with the goal of getting off the meds all together. THANK YOU! Do you have any other DVDs in the works? These will keep me entertained and inspired for a long time, I'm sure, but I'd love to keep adding to my collection. Thanks, again. Kathy"

"I really have enjoyed these DVD's. During 2008 I was able to lose 55 pounds by walking while watching these. A great product. Barb"

"Your product has made it much easier for me to get on the treadmill, as my Cardiologist has suggested to increase my workouts from 3 times per week to 6 or 7 times. Before finding your product, I had used regular travel DVDs during my workouts, but frankly, they did not inspire motion or a walking cadence as your virtual walk DVD does. I now enjoy the workout, rather than merely endure it. I'll undoubtedly add more in the near future, including the virtual bike rides for both my treadmill and my stationary recumbant. Great product! Allen (age 63)"

"All I can say is THANK GOD for you! You have made my exercise so much fun and enjoyable, and I will have you to thank when I lose the weight that I have to. Best regards, Debi"

"With the help of your DVDs and some heavy metal music I managed to lose over 20 lbs on the treadmill over the last 3-4 months. They do help a lot to make this daily hour on the treadmill to be much more fun. Keep up the good work! Regards, Kay"

"I purchased Maine & 8 other of your Virtual Walk DVDS. I am very satisfied with these, as they have attributed to about a 30 lb. weight loss since January. I notice you have 3 that I don't have and want to order them. Thanks, Chris"

"All I can say is WOW!!!! Great quality ! Superb definition! I am in shock. And it only took 4 days and it was already in my hands!! Thank you Wayne !! I hope you make more jogging DVD's because you've got yourself a buyer. Thank you, Jeff - Puerto Rico"

"I love your DVDs, I actually look forward to getting on the treadmill now :). I've purchased 8; 7 of those are places I've been and it made me feel like I was back there...wonderful! Jim"

"I have purchased three of your DVDs and loved them. They have literally changed my treadmill workouts from a chore to a delight! I am in the process of buying three more, and will most likely be back for even more before long. I am interested in some of the new titles that I see you have in the works. Please put me in your "Wants new titles" folder. Thanks for such an innovative product. (and I bet you have fun making them, too!) Kate"

"Your DVDs are a good stress reliever for me to "get to another place" visually. . .and such lovely scenery!! Thanks so much for your quality work. Greatly appreciated, and I (in turn) tell others about you. I have all the English and Italian DVDs now. . .and am working on others. Anita"

"I just ordered my second set of 4 dvds for the treadmill. While I don't think exercise will ever be my favorite thing, your dvds have certainly improved the experience. We bought a flat screen tv to put on the wall above the treadmill, so I really get into the dvds while walking. The first time I used the English Countryside video, I remember thinking as I was walking, "boy, this path is getting narrow & those plants look kind of prickly." It's so much like you're really there. Just wanted to say thank you for coming up with such a great idea. Lindsay"

"I'd like to commend you for the outstanding customer service you provide. My sister, Addie, was very pleased to learn that the dvds were shipped by Priority Mail this afternoon. Best Regards, Martin"

"I just love your videos, before I bought your dvds I didn't stay on the treadmill very long because it got boring but now even if I get tired the virtual walks keep me interested and I want to keep walking. It's almost like really be there! Thank you, Lisa"

"Your virtual walk DVDs are not just a purchase, they are an investment. I have been able to walk an entire hour on my elliptical machine two days in a row. And yes I enjoy the 1 hour walk. I'm excited about starting a new set of DVDs to walk with although I have not decided which DVDs to buy next. Thanks, Kimberly"

"I just ordered your DVD on Mt. Desert Island, Maine. While I mainly got it because we are planning a trip in a few days to Mt. Desert Island and I wanted to see what it was like, I had the idea that I would use it to exercise on my elliptical as your reviews say it is great for that. I began watching it just for the sights and thought, well this will be silly to put on as I exercise although it was beautiful to watch. But just for the heck of it I put it on and got on the exercise machine and I was hooked. I felt like I was jogging down Cadillac Mountain and I really enjoyed it! Thank you so much for the fast shipping and the beautiful job you did. Thanks. Janice"

"We loved our two we just received last week and are ordering more! Polly"

"I am so excited about hearing you will have some dvd walks on the beach and in egypt. I love all your videos and today I purchased 6 more. I tell everyone I know about your site and how wonderful they are. I am already making my christmas list out and planning to give your videos out to friends and family. Thanks for making my exercise and leisure time so enjoyable. I walk on my mini trampoline during these dvd's. It is easy on my joints and I have so much fun just looking forward to what's around each corner. lol Sylvia"

"Your English Countryside and London Waterways DVDs are great. Find bits and pieces of scenery in each new viewing. Exercise sessions pass by before you know it. Nice camera work, feels as if you're walking along the roads and paths. Mark"

"I am so hooked, your DVD's are wonderful. I want to order 4 more. Shelley"

"Just wanted to let you know that I received the items today. They arrived in perfect condition. I did both of them on my elliptical. They are just beautiful. I can't wait for you guys to list the faster vids. Someday you should film one at night. The menu pic from the London one is so peaceful. Thanks so much for making these vids. I plan to buy more. Thanks again. Bev"

"I want to let you know how much my mom absolutely loves the Cotswolds DVDs I purchased from you for her Christmas gift. She said watching the DVDs is like a delicious treat to savour. I am so pleased this unusual present was so well received. Thank you for your helpful and personal service. Dianne"

"We LOVE the 3 Italian DVDs. They are magnificent! We have played them several times already and we are seeing new things each time. You stop and pause exactly where we want you to pause. We truly look forward to the new Italian releases. Thanks for adding a bit of happiness to many lives, we greatly appreciate your work. Norma"

"Thank you so much! I just love your videos. Before I bought your dvds I didn't stay on the treadmill very long because it got boring but now even if I get tired,the virtual walks keep me interested and I want to keep walking its almost like really be there! Thank you, Lisa"

"This is the most awesome idea ! Watching beautiful scenery while I am on the treadmill ! Mary"

"Just wanted to let you know I just gave my mom the DVD's for her birthday on Friday. They are a HUGE hit!! Not just with her but with everyone we tell!! I put one onto our 52" and chuckled at all the guests standing there with their jaws dropped!!! It is such an amazing concept that everyone wants them!! Lucille"

"Hello! Thanks to your DVD's, I have FINALLY started and remained faithful for 2 months to my treadmill regime! When will your new DVD's be available? I am soooo looking forward to (and walking to) Greece and other locations! Monica"

"I want you to know how much I enjoyed the hike on the North Shore! I actually walked most of it this afternoon, it was great! I really enjoyed hearing all the birds. You know, of all the times we have been over there, we have not done that particular hike. I thought it was very well done. And the seascapes were fantastic! You really captured the Hawaii I have come to love so very much. Mahalo for such a wonderful DVD! Susan"

"Hi! My husband and I just absolutely enjoyed your walking tour of Rome... neither of us can believe how quickly our workout flew by! It was almost as great as being there!! We've already purchased the rest of the Italy dvd's and would love to know if and when you plan to release any more...either of Italy or France. I would buy them right away!!! Thank you so much...keep traveling and making these wonderful dvd's. It really helps us to want to stay in shape! Arlene"

"Just wanted to let you know I'm still walking every day and it's because of your videos. I love every minute of my walk now. When I look down at the time I've spent walking and see 10 minutes have gone by I can't believe it. I feel like I've just started. I've increased my speed now and I really feel physically fit and I believe will be going a full hour pretty soon. I love the scenery. I love everything about the video's. And I am looking forward to purchasing the rest of your video's once they are done. Nancy"

"Just a quick question. When will the new DVD's be released? I am really looking forward to purchasing several of the newer ones. I am exercising daily now and attribute my new energy to the beautiful views I watch as I use the treadmill. Once again – THANK YOU. Norma"

"I already have all the DVDs that you currently offer! I am anxiously waiting for new ones. I love your DVDs, they are the best! Is there a way you could perhaps e-mail me when the new ones come out? I will bookmark your site. Thanks Again, Virginia"

"Yesterday we received all three DVD's. It's for my wife and she loves the Cotswold's. Immediately she watched all three DVD's. You're right the Cotswold's are enchanting. The DVD's are fantastic. Your collection is the best we could find on the Cotswold's. Once again thank you ever so much for the DVD's. All the best! Francis"

"I received my shipment of DVDs today. I was so pleased with your first video, English Countyside that I did not hesitate to order the whole set. I just wanted to let you know I enjoy the DVDs and am really looking forward to keeping up my walking program through the winter months while watching this beautiful scenery. If you have an email mailing list, please add my address to keep me posted of your new releases. Thanks very much, Becky"

"I just wanted to write and let you know how much I am enjoying your DVD´s whilst walking on the treadmill. It really makes the daily exercise routine different and the time passes so quickly. After living overseas for nearly 20 years, it is lovely to see the English countryside again. Keep them coming, I shall be back soon to order some more. Best regards, Val W., Portugal"

"I just finished your English countryside walk with narration and music. I had to take a moment to tell you how very much I enjoyed it from the opening bit of history and all through the walk which kept me at a nice pace allowing me to "travel" 1.75 miles. I continued to the natural sound through my cool down and completed a 2 mile walk!! I have to compliment you on the professionalism of this tape. BETTER than I had even hoped for! Now I can't wait for tomorrow to go to Venice and the next day a walk on the beach. This takes the ordinary out of my treadmill walks and has kept me pleasantly entertained enough to go further than my usual 1.5 mile walk! You really do feel as if you're THERE!! THANK YOU, EMH"

"I really love the videos. But to tell the truth.... the video is really the best that I've ever purchased!! (next to my fitness equipment, of course :-). I'm some what of a freak when it comes to working out. My goal is to have 100 miles combined between the elliptical and the treadmill, if I make it again and I'm sure I will this will be the fourth month. This morning I tried the elliptical and went further than I've ever gone, so I might have to increase my goal!! :-). I truly believe watching a program that makes me feel like I'm there has made all the difference. Anyway, guys I really like the virtual walk. I've been thinking about the mountains. Maybe just more of a natural walk thru woods and mountain-like trails. I had no idea you had to carry so much equipment. But you do a wonderful job!! Kudos to you both. Robyn"

"Hello, I just ordered 11 of your DVD's and it is everything that I had expected and hoped it to be! I want to thank you for making these videos. As I grow older it's harder to keep in shape without exercise. Even though I have always loved to exercise, as I grew older, I began to exercise less, gained the weight, began to get health issues and I decided that that Was it and began to get myself healthy again and to exercise. I have proud to say at the ripe old age of 60 that I began getting fit again. I purchased an Ab machine and can now do 25 sit ups right in a row after only one month of exercising, and I go 30 minutes on the treadmill at a fast clip, and ride my stationary bike for 10 minutes. I plan to improve on my endurance as I keep progressing in my goal to be fit again! Your video's are just the right thing for me to STAY motivated. It's one thing to have your mind set to do something, but staying the course is another matter and is why most diets and exercise programs fail. I popped in your video today on Venice, and plugged in my own exercise music, (However, I love your music too, which gives me more choices to choose when exercising) and it was the best time I've had in a long time. I have needed such a vacation. I did my 30 minute work out on my Treadmill and enjoyed it more than I have ever enjoyed it before. You kept the camera moving as though I was right there. (Wished I could have gone shopping in some of those shops). And when the video was done I jumped on my bike and played the mini documentary which gave me a 10 minute exercise program on my bike. What an overall, healthy experience. Not only does it motivate me to get on my equipment, but I'm excited to see what I'm going to see next and I'm learning history as well. I told my husband that today I visited Venice, tomorrow I'm going to London and he laughed. He told me, "See I promised you I'd take you places". Thank you again! I LOVE IT! You stated that you are finishing up on some more. You can count on me ordering the rest of the video's. Once again thank you for your time and thoughts on creating such a motivational video. Nancy"

"Thank you very much! We already have all the other walks that you have produced and enjoy them immensely. We will definitely enjoy these, and look forward to your new ones. You must have a great time filming them! We certainly enjoy and appreciate your efforts. All the best, Robert"

"Wow! I love my new Burano DVD and now have it on my IPOD for use in the gym. It is amazing!!! Mary Beth"

"Hello. I really enjoyed the walking video of Venice. I got two, one for myself, and one for my parents. We lived in Venice when I was a youngster, what memories! Thanks, Michele"

"Hello, I bought all of your walking DVDs recently and have just had a chance to spend more time with some. They are truly a treat for me. Although I've been to Venice (long ago), somehow I never learned about Burano (or Murano or Turcello, which I look forward to seeing, courtesy of you). I loved both DVDs and found the mini-doc about the other islands fascinating. I just watched the Four Seasons one in fast forward. I'm a native Californian and, although it does happen relatively dramatically in parts of the state, I've rarely seen obvious signs of seasons changing in my daily life. It was SO interesting to watch the changes along the same path right before my eyes. What an interesting concept you had in doing this. How moving it is allegorically as well. Further, the mini-doc on flowers and ferns is so lovely .. offering the things one would focus on while walking past but you can't safely with a camera while continuing walking. My biggest compliment is for the very rare pleasure of experiencing editing to the phrases of the music. There should be whole semesters/years on this in film schools and specialists sitting with non-musical editors because it makes such a difference. Very often you made gentle transitions as the music went from one phrase to the next and I loved how you would slowly zoom in on a flower and hold the shot through the climax of the phrase. Well done! I'm not sure which came first, the film or music, but if it were the film, it was photographed with uncanny musical timing. However it happened, I appreciated and got great pleasure from it. I'm looking forward to the rest - and ones coming in the future. I'm slowly savoring them since I know I'll be living with them for a long time. Thank you for these and for making my ordering so easy that night I was doing them one by one, Janet"

"Just thought I'd let you know that the DVDs arrived on May 8th. They are great! I can't wait for the Scotland one. Thanks! I'll be ordering again. Email you soon. Sincerely, L.J.C."

"I received the Four Seasons virtual walk today, & I'm VERY pleased with it. Thank you; it will help me get through using the exercise bike or treadmill when it's too rainy, cold, windy, snowy, or hot to walk outside. S.S."

"My name is Mary P.... and I have purchased four of your walking dvd's. I cannot tell you how much I enjoy walking to them. I was wondering when you will have your Pompeii dvd available? Mary"

"What a wonderful idea! I lived in Europe for 32 years and now I am stateside. Your videos brought back so many memories that photos just can't do. Thank you, Margaret"